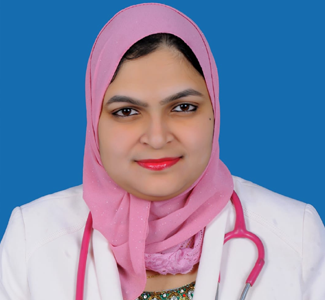 | | |
| --- | --- |
| Speciality | MBBS, MS General Surgery, Fellowship Breast Cancer Diseases |
Dr.Shameem Unnisa Shaikh
MBBS, MS General Surgery, Fellowship Breast Cancer Diseases
Dr. Shameem Unnisa Shaikh is Specialist Female Surgeon for Breast and Anorectal surgery (General & Breast OncoSurgeon) with exclusive expertise in breast surgery (benign and cancerous lesions), proctology and day care general surgical procedures.
With motto of "For Women by Women" her services are women oriented especially in breast and proctology. For the sake of women upliftment she has her own youtube channel on "breast awareness". Her breast related services includes screening for breast cancer, minimally invasive breast trucut biopsies, wire guided localisation and excision of impalpable breast lesions, microwave ablation and surgical excision of benign breast lesions (fibroadenomas), microdochectomy and major duct excisions for nipple discharge. USG guided drain placement for breast abscess, excision of cancerous lumps along with Sentinel Lymph Node Biopsies, Breast conservative surgeries with reconstruction and total mastectomies with axillary clearance.
She has good experience in minimally invasive procedures in proctology like Laser Sphincterotomy for anal fisssures, Laser Hemorrhoidoplasty, DG-HAL Haemorrhoidopexy for different grades of haemorrhoids (piles), Fistulectomy for anal fissure & Pilonidal sinus.
Her services in day-care general surgical include inguinal hernia repair, umbilical hernia repair, incision & drainage for Abscess and excision biopsies.
She is very approachable ,soft spoken and thrives to provide ease, comfort and health for women through her services.