Piles Treatment in Hyderabad
Best piles doctor in Hyderabad with 100% success in surgery with cost range more affordable, and treatment will be effective, within hours discharge. Equipped with state-of-the-art facility Offering the most up-to-date facility and technology.
The Essence is EARLY DIAGNOSIS LEADS TO LESS INVASIVE PROCEDURES. We show our patients Live Cam Proctoscopy of their disease pattern and ensure proper understanding of outcomes.
*Book Your Appointment Now: Register Now
Treatment Types of Piles - Laser Treatment or Surgery
| | |
| --- | --- |
| SURGICAL (OPEN METHOD) | NON-SURGICAL (LASER) |
| Hemorrhoidectomy: removal of large or severely inflamed hemorrhoids | Laser therapy: use of laser beam to burn the hemorrhoid tissue |
| Loss of blood | Zero Blood Loss |
| It's excruciatingly painful. | No Pain |
| Hospitalization for a few days of confinement | Day care procedure |
| Stapled hemorrhoidopexy: removal of hemorrhoid tissue and repositioning of remaining tissue | Infrared coagulation: use of infrared light to heat and shrink the hemorrhoid |
| Bed rest was required | Rapid recovery |
| Possibility of repetition | No Repetetion |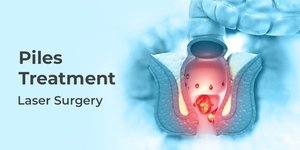 Piles surgery or hemorrhoidectomy is the process of removing swollen blood cells, support tissue, elastic, or fibres inside or around the rectum and anus. These swollen blood cells are called haemorrhoids.
Haemorrhoids are caused due to increased pressure in the rectum which can form in bulges or piles either internally or externally. This arises because of chronic constipation, pregnancy, lifting heavy weights, chronic diarrhoea or trouble in passing a stool.
Piles may have the tendency to be genetic and are common in older age. To treat the piles, there are various surgical and non-surgical methods recommended by the doctor. There are four grades of piles found in the medical history and treated according to their severity.
How is Piles Surgery Performed?
Below explained are the types of piles surgery at Apollo Kondapur;
Rubber band ligation
This process involves restricting the swollen blood cell at the base using a rubber band. This will block the blood supply in the affected area and ultimately lead to falling off on its own.
Coagulation
The coagulation process includes the use of infrared light or electric current to create scar tissue on the haemorrhoid. This tissue will restrict the blood supply to the swollen blood cells, leading to its fall.
Sclerotherapy
Sclerotherapy involves injecting a chemical solution into internal haemorrhoids or piles. This solution is used to reduce pain by making nerve endings numb around the area. This too forms scar tissue and falls off on its own.
Hemorrhoidectomy
The process is performed in the hospital where the patient is under general anaesthesia. The doctor will cut-open the anus and the swollen blood cells. After removing the swollen tissues, the surgeon will seal the wounds.
Haemorrhoid stapling
This procedure is used in treating internal piles which may have been prolapsed or grown large. Haemorrhoid stapling involves stapling the haemorrhoids into the normal position and within the anal canal. Stapling blocks the blood supply to the swollen tissues and tends to reduce in size slowly.
What are the Advantages of Piles Surgery?
After the surgery, the patients diagnosed with piles lead a healthy life. Advantages of piles surgery are mentioned below:
Able to pass the stool easily
Controlled bowel movements
Smooth rectum and anus
What are the Side Effects of Piles Surgery?
Doctors advise taking rest for a couple of weeks after the surgery. It is common to experience the following after Piles Surgery:
Bleeding during passing a stool
Swollen rectum
Pain in the rectum
Infection
Reaction to anaesthesia
Straining during passing a stool
Unable to control bowel movements
Recurring haemorrhoids
Prolapse of rectum linings out of the anus opening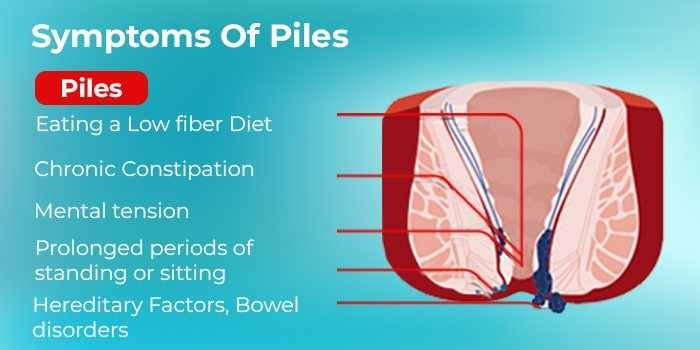 There is no bleeding during bowel movements.
Itching in the anal region
Golden bread pain in the anal area
The presence of a painful or painful mass close to the anus
Swelling in and around the anus
Who is the Right Candidate for Piles Surgery?
People experiencing the following are the right candidates for piles surgery:
Pain during the passing of a stool.
The anus is itchy, red, and sore.
Bright red blood is visible.
After passing a stool, a person may experience full bowels.
A hard or maybe painful lump may be felt around the anus.
Prevention Of Piles
Maintain a healthy diet

Exercise regularly

Avoid sitting for long periods

Practice good toilet habits

Avoid lifting heavy weights

Don't delay going to the bathroom

Manage stress
Cost of Laser Treatment For Piles
If you want to go for Piles Laser Treatment in Hyderabad at an affordable cost in our Piles Clinic? Fill the contact form or call us on +91 8121800400 (OR) +91- 8121200400
Book Your Appointment Now: Register Now
The Best part of our Maven Medical Center is that we have a Specialist Lady Doctor for Piles Treatment in our Hyderabad Piles Clinic to help Lady Patients.
Our Piles Laser Treatment Specialist Doctors
Piles Laser Treatment FAQ's
Ask the Experts
Contact Info
Phone:

+91 8121 200 400
+91 8121 800 400